What if your coffee could change lives?
Last week saw the launch of our brand new coffee supplier, Change Please, at Knight Frank. Change Please – is a coffee brand 'unlike any other', because every coffee bought from them contributes towards tackling homelessness in London.
As a social enterprise, Change Please are empowering the homeless community by training them to be baristas and coffee roasters, offering jobs paying London Living Wage and support with housing, bank accounts and mental wellbeing.
They have several coffee carts across the city but have recently started supplying their award-winning coffee beans to high street operators. When Knight Frank decided to change their coffee supplier, we thought Change Please would be a perfect fit, given their strong CSR credentials and existing partnerships with charities such as Crisis and Land Aid.
At Lexington, before any coffee supplier change we like to get the suppliers and the customers acquainted to generate excitement around the upcoming offer. This is done through pop-ups, engagement sessions, roastery visits and coffee tastings. Because Knight Frank has a big coffee culture, it was important we engaged with as many of our customers as possible, so we invited Change Please to Knight Frank's head office do a 'coffee takeover' morning.
They brought one of their coffee carts through the goods lift and set up shop on the 5th floor, and it didn't take long for the queues to form…
Cemal, the founder of Change Please ran the engagement session along with a beneficiary of the Change Please programme, and our Knight Frank catering team were on hand to help out…
Cemal, the founder of Change Please, has been inundated with positive feedback from Knight Frank staff, some even asking if they can volunteer for the charity!
'I just want to say I am so pleased, impressed, and surprised (in a good way!) about our new supplier… it's a great initiative'
Knight Frank member of staff
Watch this space to see how Change Please get on!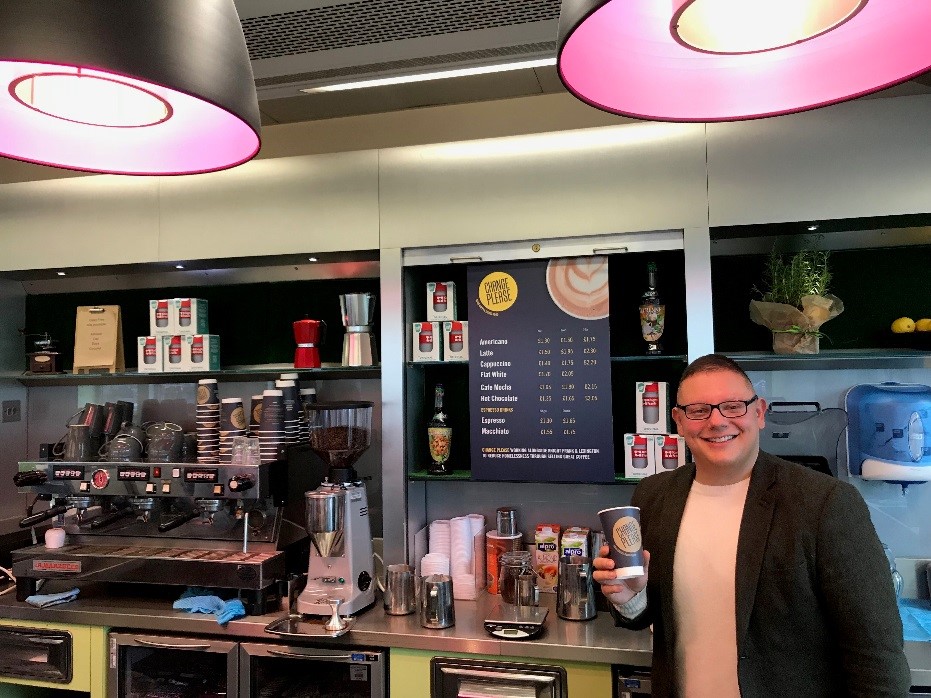 Cemal the founder of Change Please at Knight Frank