Chatting to Luis, our 2019 BariStar winner!
If you're not already across it, our annual BariStar competition sees Lexington baristas battle it out to be crowned the best in the biz. After sharpening their skills with our generous coffee suppliers, they compete in an action packed, heavily caffeinated and extremely entertaining final heat! It's always a highlight in the Lexy calendar.
In 2019, Luis won the coveted BariStar title so we're picking his brains for some tips and tricks to offer the 2020 hopefuls…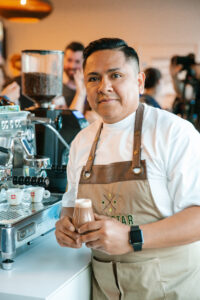 Luis, tell me about how you found yourself working in coffee
I started as a General Assistant but for two years I was consistently asking to work in the café. When I introduced myself in my first BariStar competition, I actually told the judges about how when I was a GA, I used to see the guys working with coffee and I used to say 'One day I want to be doing that'.
And now you are!
And now I am Coffee Bar Supervisor!
You say your first competition, how many BariStars have you taken part in now?
Three. After the second time I said that was my last but my manager encouraged me to go for it one more time and that was the competition I won!
Tell me about that experience, which of our coffee suppliers did you work with?
Change Please. I love that coffee, it has such a nice flavour. I love what they do also, during the competition I learnt a lot about the company and the chances they give people to progress in life. I like that, because so many places won't hire you if you don't have experience. I didn't have experience in coffee but my dream was to work in the café and now that I'm supervisor, my dream is to give people opportunities to also learn if they want to!
Change Please are so great! So after you spent time with them, you headed into the BariStar technical round?
For the semi-final we had to make five or six drinks and show off our skills. I found out afterwards that I had the highest score because I was one of the only ones talking! The first thing I said when I came out to see the judges was 'Hi! How are you?' because in my training with Change Please they taught me to 'talk talk talk'. That's what a good barista does with their customers. 
Well whatever you were saying must have worked for the judges because you made it to the finals! What did you make as your creative final concoction?
I did something we make here [at site] with our Head Chef, a habanero infused, spicy hot chocolate. It's really good for the cold days!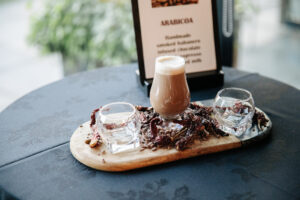 Do you remember what it felt like when you won?
I had just finished and I walked to the back of the room and was just glad it was over. Then I heard my name called and I couldn't believe it.  It was one of my big goals to win and I did it! My team were very excited too, they put up big posters of me and all the customers came in saying 'I want a coffee from the champion!'. Also I won a really nice coffee machine which I now have at home.
Do you make loads of habanero hot chocolates with it?
No, I like Espressos or Americanos personally
A true coffee purist! And finally, what advice would the BariStar Winner of 2019 give to those hoping to take out the competition in 2020?
Just be yourself! As we're talking now. It won't be easy with the judges and cameras but just try to relax. I had to practice a lot with my manager. Also ask for help, it wasn't just me who won the competition – I worked with my Head Chef on the chocolate mousse for my final drink, my manager practiced with me every day. You don't need to win on your own because you're not on your own!