Lexington X Shelter: World Homeless Day Experiential Campaign
Did you know? In the UK, a staggering 63% of vulnerable young people have experienced weight loss due to inadequate access to food, with nearly one in four lacking decent kitchen facilities. 
In support of World Homeless Day on October 10, our Lexington Green Force team joined forces with Shelter and our client, BT, to create a unique experiential marketing campaign, raising awareness of life and diet in temporary accommodations for our customers and client communities.  
Experiential Campaign
As a catering company, we recognise the significance of nutrition and its profound impact on wellbeing. Our mission was to leverage our catering services to address food insecurity and malnutrition in temporary housing and generate vital funds for Shelter, a housing and homelessness charity in the UK. 
Our restaurant areas across four of our BT client sites were transformed into interactive installations. We developed a realistic representation of typical cooking facilities and meals in temporary accommodations, along with digital animations to highlight the difference in nutritional content between typical meals at our restaurant and those in temporary accommodations.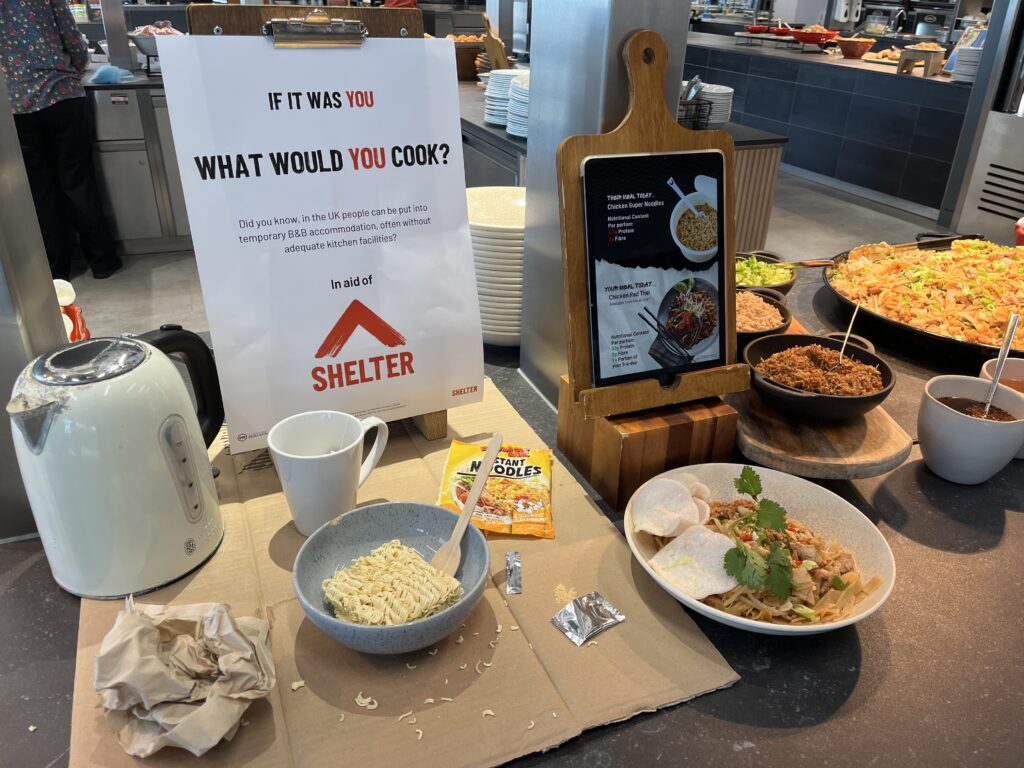 The lunch menu for the day was designed to complement this theme, offering a nutritionally balanced version of the classic pot noodle.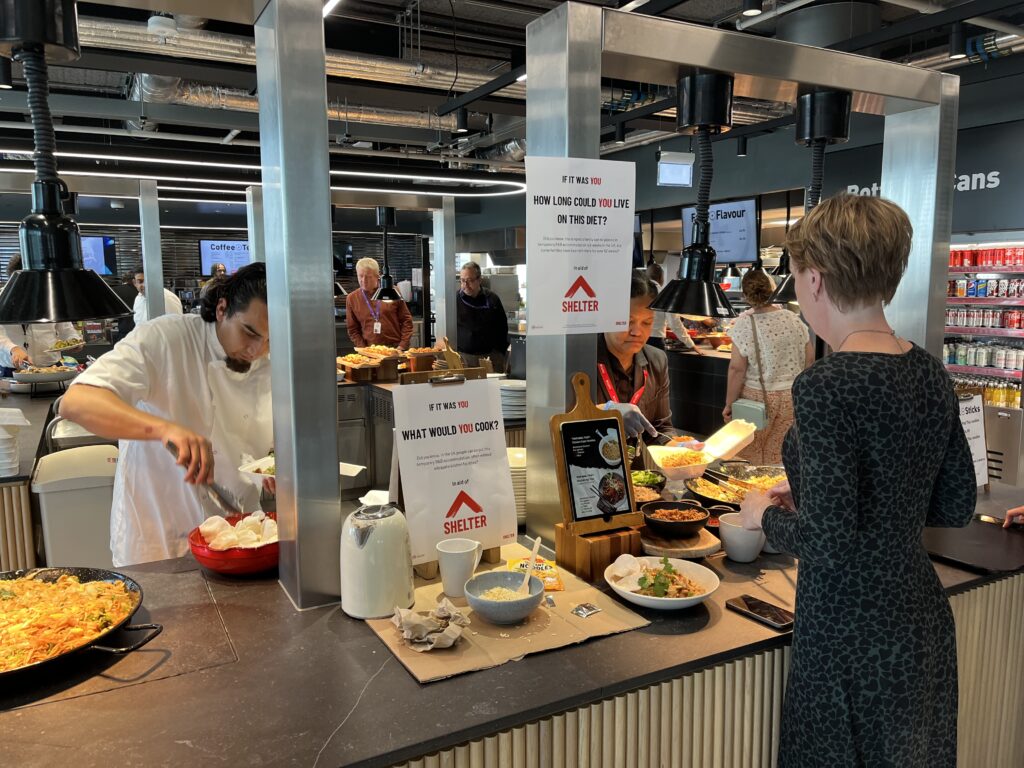 We also initiated a digital takeover across our restaurants, featuring video diaries to provide customers with a window into the real experiences of those living in temporary accommodations.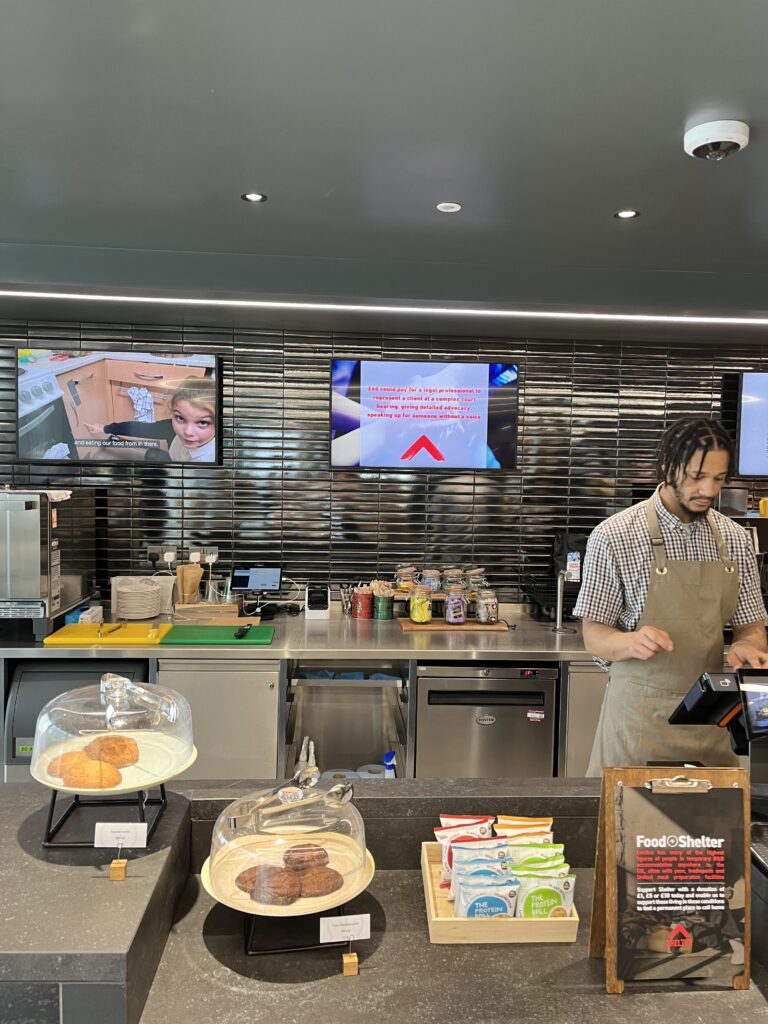 Spanning four key locations in the UK – London, Bristol, Birmingham, and Glasgow, cities grappling with high numbers of people in temporary accommodations, our campaign brought to life the challenges faced by these individuals: 
London: 13,000+ rough sleepers were recorded in London between April 2022 and June 2023 (https://data.london.gov.uk/dataset/chain-reports August 2023)
Bristol: 3,000+ people in Bristol are homeless, according to data from Shelter (January 2023) 
Glasgow: more than 16,000 children became homeless this year in Scotland according to Shelter (August 2023) 
Birmingham: 1 in 96 people are homeless in Birmingham according to Shelter (December 2021)
During just two hours of lunch service across all four client sites, we successfully raised a total of £433 in donations.
Importantly, this money can make a substantial difference: 
72 individuals can now make contact with their legal team to begin the process of receiving the expert help and support they urgently need 
7 legal representatives can represent clients in complex court hearings, providing detailed advocacy and speaking up for those without a voice 
The funds raised will also aid Shelter in supporting those facing homelessness in various ways: 
£23 can fund a web chat for someone facing homelessness to understand their rights
£29 can fund a call to Shelter's emergency helpline or pay for an emergency call with a Shelter adviser
£60 can pay for a legal representative to support a client at a complex court hearing, providing detailed advocacy
£157 can pay for legal advice to help a family in crisis keep their home
Shelter commented: "Working with Lexington Catering on this partnership was an absolute pleasure. With often limited income and no kitchen facilities, many people experiencing homelessness are unable to prepare balanced, healthy, and fortifying meals for themselves and their family. This not only affects their physical wellbeing, but their mental wellbeing also, with nutrition being such a key component to health. The installation allowed us to show how some individuals and families have to try to survive with the most meagre of facilities – something that no person should face when they are experiencing homelessness."
Highlighting the significance of overall wellbeing, not only for our BT colleagues, but also for those facing food insecurity is so important for us as trusted food service providers. We want to say a big thank you to our colleagues at BT and Shelter for their support on this campaign.