Healthy, inflation busting dishes and ways to eat more sustainably
We recently cooked up a fresh and exciting food forum for our Lexy team. Featuring a great line-up of food, suppliers Brindisa Ltd, Daily Fish Supplies and cooking demonstrations by our talented chefs. We also saw the launch of our female chef network and an informative guide on sustainable seafood by the Marine Conservation Society.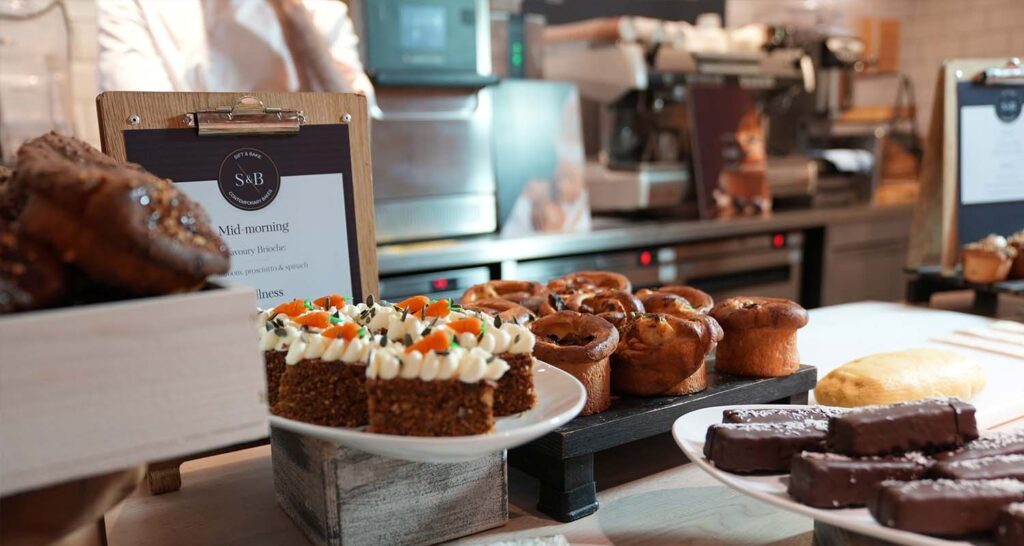 Our team worked incredibly hard on this food forum to talk about our new approach to tackling the cost of high inflation products, encouraging creativity and introducing new dishes.
Inflation is an industry-wide issue and is changing the way our industry thinks about menu creation and menu description. We are committed to ensuring that inflation does not affect our offer and quality of food. Therefore, we are tackling this through creativity and innovation.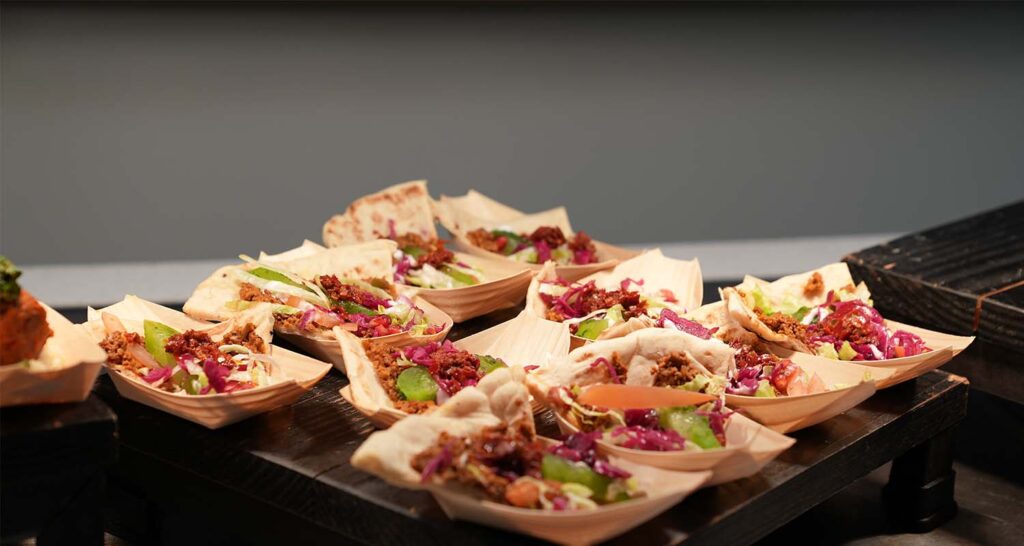 Our focus remains on quality ingredients, including high-quality meat and beef in our menus. But to play our part in The Paris Agreement ambitions, reducing our beef consumption by 15% is crucial in achieving our carbon reduction target by 2025.
The forum helped us take a step further in reaching our target, by providing and promoting more delicious, innovative menus. Plus, it was a great visual, fun and delicious event for our team.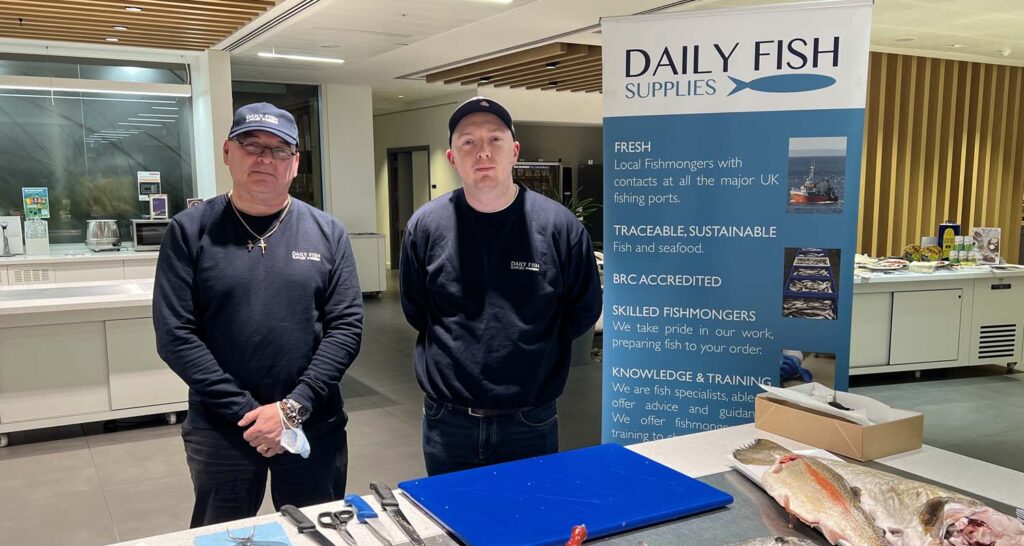 We are actively promoting sustainable eating; government recommendations are to consume no more than 70g (cooked weight) of red or processed meat on a daily basis. Government research also states that only 6-8% of adults meet their daily fibre recommendations.
These two stats suggest increasing pulses and legumes to boost fibre intake whilst reducing meat intake (particularly from red and processed meats) is vital in improving our collective health.
If you combine all this with the drastic rise in food costs (particularly meat and dairy) then replacing a percentage of the meat content of dishes and swapping out meat and dairy entirely should definitely be an area of focus for us as a company and industry.
With that in mind the following four dishes have been designed with the following key criteria: healthier by either reducing or replacing meat and reducing food costs (inflation-busting).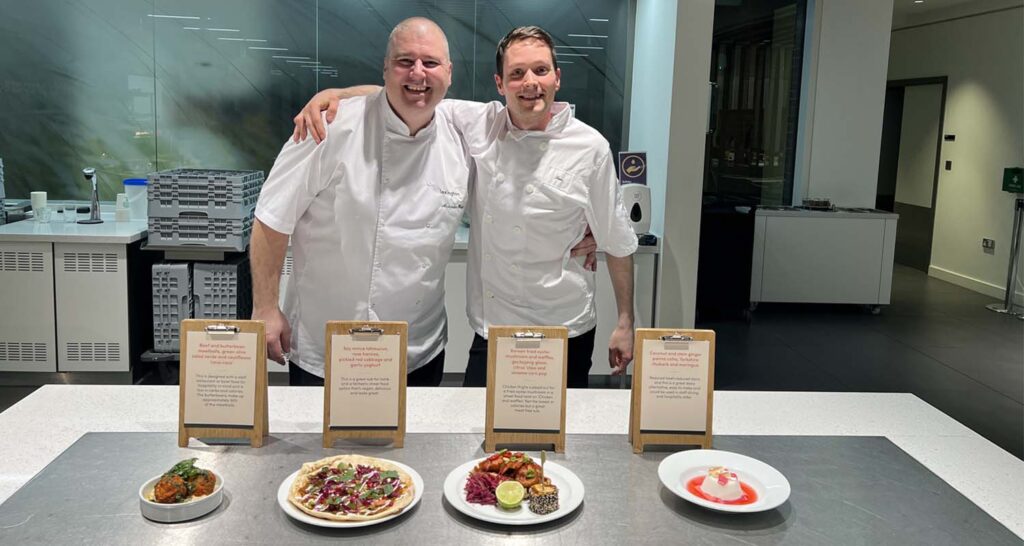 Dish 1: Beef and butterbean meatballs, green olive salsa verde and cauliflower 'cous cous'.
This is low in carbs and calories. The butterbeans make up approximately 50% of the meatballs.
Dish 2: Korean fried oyster mushroom and waffles, gochujang glaze, citrus slaw and sesame corn pop.
Chicken thighs subbed out for a fried oyster mushroom in a street food twist on 'Chicken and waffles'. Not the lowest in calories but a great meat-free sub
Dish 3: Soy mince lahmacun, rose harissa, pickled red cabbage and garlic yoghurt.
This is a great sub for lamb and a fantastic street food option that's vegan, delicious and looks great.
Dish 4: Coconut and stem ginger panna cotta, Yorkshire rhubarb and meringue.
Reduced beef = reduced dairy and this is a great dairy alternative and easy to make.
Our Head Chef, Sam Walton who designed the four dishes says 'By creating dishes that reduce or replace meat, we aim to add value for our customers through providing healthier choices that are better for the environment and their lifestyle'.
Sam continued 'this forum was about highlighting that we can take challenges that we might face and create competitive advantages from them. If we can get our collective, creative talents behind this then we can be market leaders in this emerging and important area'.