LexingTEN Charity Fundraising Dinner
On Thursday 20th September 2012 Lexington held a charity fundraising evening for its LexingTEN charity partner, Ben Jonson School.
The fun filled evening was a chance for Lexington friends to get involved with LexingTEN fundraising whilst celebrating Lexington's 10th anniversary.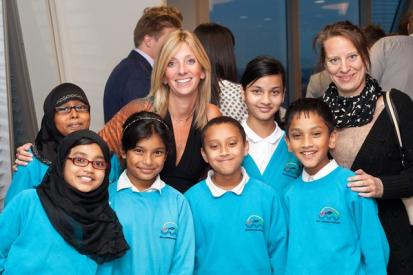 The event was hosted by Reed Smith on the stunning 31st floor of The Broadgate Tower, overlooking the City of London. 

The relaxed and entertaining evening started with salmon blinis served by ten-year-old pupils from the school and entertainment provided by an incredible magician.The school's Head Teacher, Dr Mel Rose, sang an emotive operatic song accompanied by her fiancé on the piano whilst guests were being seated. 


Head chefs from across the Lexington business hosted tables to oversee and assist with the games, dinner and auction bids. The Lexy chefs were also on hand to assist with the 'family' style dining with one guest from each table chosen at random to be 'guest chef' for the evening, carving a delicious roasted leg of lamb for their table.
Highlights of the evening included a very competitive game of 'Heads or Tails' and a 'decorate your own trifle' competition which was won by the creative team from HR and training partner LearnPurple!

J
ulia Edmonds, Managing Director said: "The evening was a tremendous success and highlighted the great relationship we have formed with the school. The head teacher Mel is an absolute inspiration to the pupils at the school and we are delighted to be able to support with funds raised from the dinner and with all the other educational activities we have been involved with at the school this year."


Dr Mel Rose said: "The night was incredible and such great fun! Filled with outstanding food, lots of laughter and wonderfully generous and open-hearted people the night raised over £7,000 for the school. The partnership that we have forged with Lexington has been a wonderful one for all involved, from the pupils through to the parents, school volunteers and teachers. The energetic and fun filled approach has been truly unique and we all look forward to continuing to partner with Lexington into 2013."


Auction prizes included a 40 inch plasma SMART Samsung TV, a day's bakery master class for two with Eric Lanlard, Channel 4's 'Cake Boy' and a 5*Lexington experience with a Lexington front of house manager and current LexChef champion, Carl Williams, cooking a stunning dinner for up to ten people at the winner's home, accompanied with wines generously donated by wine supplier Bibendum.

The evening was a huge success with over £7,000 raised for the school through the evening's games, auction prizes and donations