At this year's Hospitality Show at NEC Birmingham 21st – 23rd January, Lexington Catering's apprentice chefs, Louise Roberts and Kimberley Walsh, stole the show in the Junior Restaurant Plates category with two Gold and two 'Best in Class' between them.
They were each required to present two individual dishes which showed technical ability and knowledge as well as menu innovation and presentation. Each dish must score over 90% to be awarded Gold 'Best in Class'. 
Louise and Kimberley were Lexington's first 'Lex School of Talent' trainees and have flourished over the course of their apprenticeship. 
The two year chef apprenticeship scheme was launched in 2011. The scheme, in conjunction with Springboard and the University of West London, provides a great opportunity for young chefs new to the industry to work within a supportive, stimulating and educational environment whilst gaining valuable NVQ Level 1 and Level 2 qualifications. The paid placement gives young chefs the opportunity to gain valuable experience of working within the Business and Industry environment with the benefit of a strong, supportive framework under which to train. The scheme also guarantees future employment with Lexington upon completion of the apprenticeship.
Rob Kirby, Chef Director at Lexington commented: "What a fab result for our Lex School of Talent youngsters at the Hospitality Show! These results show the commitment and belief that our onsite teams share in for our future stars. For Lexington, and for me personally, it has been a new and very rewarding challenge in setting up the Lex School of Talent, working alongside Michael Coaker, University of West London and Jenny Brett, Bournemouth and Poole College, both of whom work with the Academy of Culinary Arts. It's been a fast learning curve, challenging us in all the right ways and we look forward to welcoming our next three new apprentices to Lexington later this year!"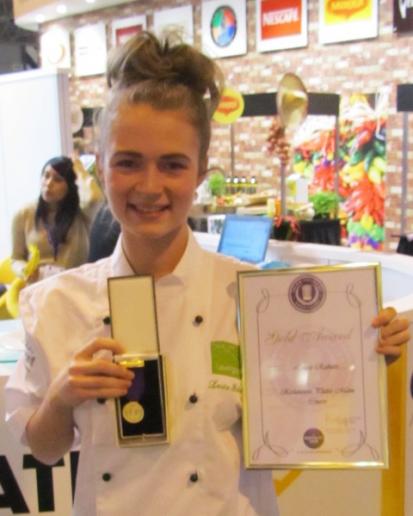 Prior to the Hospitality Show, Louise was also one of twelve finalists in the Craft Guild of Chefs Graduate Awards, beating off stiff competition from restaurant, hotel and contract catering entrants. The awards aim to recognise chefs under the age of 23 who are excelling at every aspect of working in a professional kitchen. Lexington was the only contract caterers to have a chef in the finals, which is testament to the quality of the Lex School of Talent apprenticeship scheme. 
Kimberley's winning 'Restaurant Starters' were a roulade of English goat's curd and soya beans with a fig, grape and shallot chutney followed by pressed confit of salmon and smoked mackerel with pickled courgette, micro salad and piccalilli. Louise's 'Restaurant Mains' were lamb canon with wild mushroom farce, braised lamb breast with whipped potato, vegetables and a lamb and lentil jus followed by a nage poached lobster with Perigord truffle mousseline and tortellini of crayfish and beetroot with a saffron and shellfish velouté. 
In addition to the Lex School of Talent, Lexington has a long-established Graduate Training Scheme. Now in its eighth year the scheme has gone from strength to strength and is seen as the graduate scheme of choice by those looking to pursue a successful and rewarding career in Hospitality.