The Millennials Are Here, The Centennials Are Coming, And Veganism Just Got Cool
To mark this year's World Vegan Month we caught up with Stephanie Lykourgou, Junior Development Chef at Lexington. Here she talks all things vegan…
The number of vegans in the UK has risen by 350% in the past decade and over a fifth of them call London home. Nigh on half of all vegans are aged 15-34 (42%)¹. So why is this younger cohort of diners more eager to eat their veg? And what are we doing here at Lexington to keep them satiated?
Young people are more socially and environmentally aware. They're armed with more information on food culture, provenance and environmental impact than ever. The cool kids are more interested in running inflatable obstacle courses, seeking out the latest sustainable start-ups and clean eating than dabbling in the more indulgent past times of their predecessors' youth.
They're living healthier lives and looking for the right nourishment to do so. Such is the charge of trendy new eateries, such as Camilla Al Fayed's plant-based Farmacy – serving up Earth Bowls and activated porridge galore with a focus on healthy, organic, locally sourced 'food as medicine'. This approach has garnered a Farmacy a cult-following on social media with over 40,000 followers on Instagram to date.
These are the generations inheriting the planet and they want it cleaned up – pronto. Livestock and their byproducts currently account for at least 32,000 million tons of carbon dioxide (CO2) per year, or 51% of all worldwide greenhouse gas emissions². Further, an enormous 2,500 gallons of water³ are needed to produce a single pound of beef and 1,000 gallons of water are required to produce a gallon of milk.
We are now confronted by countless findings such as these, with the likes of YouTube and Vice opening viewers' eyes to the reality of poor rearing and slaughtering practices. Combine this with the beautifully vibrant snaps on Instagram of buddha bowls, smoothie bowls, cauliflower pizza bases, glowing yogis and more avocados than you can shake a stick at, it's impossible to avoid the plea from young diners for more veg.
Here at Lexington we've been flying the veggie flag for some years now with our range of Vitalicious Juice, followed by the launch of our incredibly popular vegetarian range Grains & Greens last year. This was chased by an all-vegan offering in honour of Veganuary and an abundance of vegan-friendly bakery and retail items in our free-from range.
We've championed seasonal vegetables, celebrating them rather than hiding them away as 'substitutes' for meat – the results have been hearty and nourishing platefuls customers have loved. What's more, the hype has been far from limited to our vegan and vegetarian diners, having turned the heads of swathes of our previously die-hard meat eaters too.
In celebration of World Vegan Month, we've got a sweet sneak peek from the free-from development kitchen. Check it out here.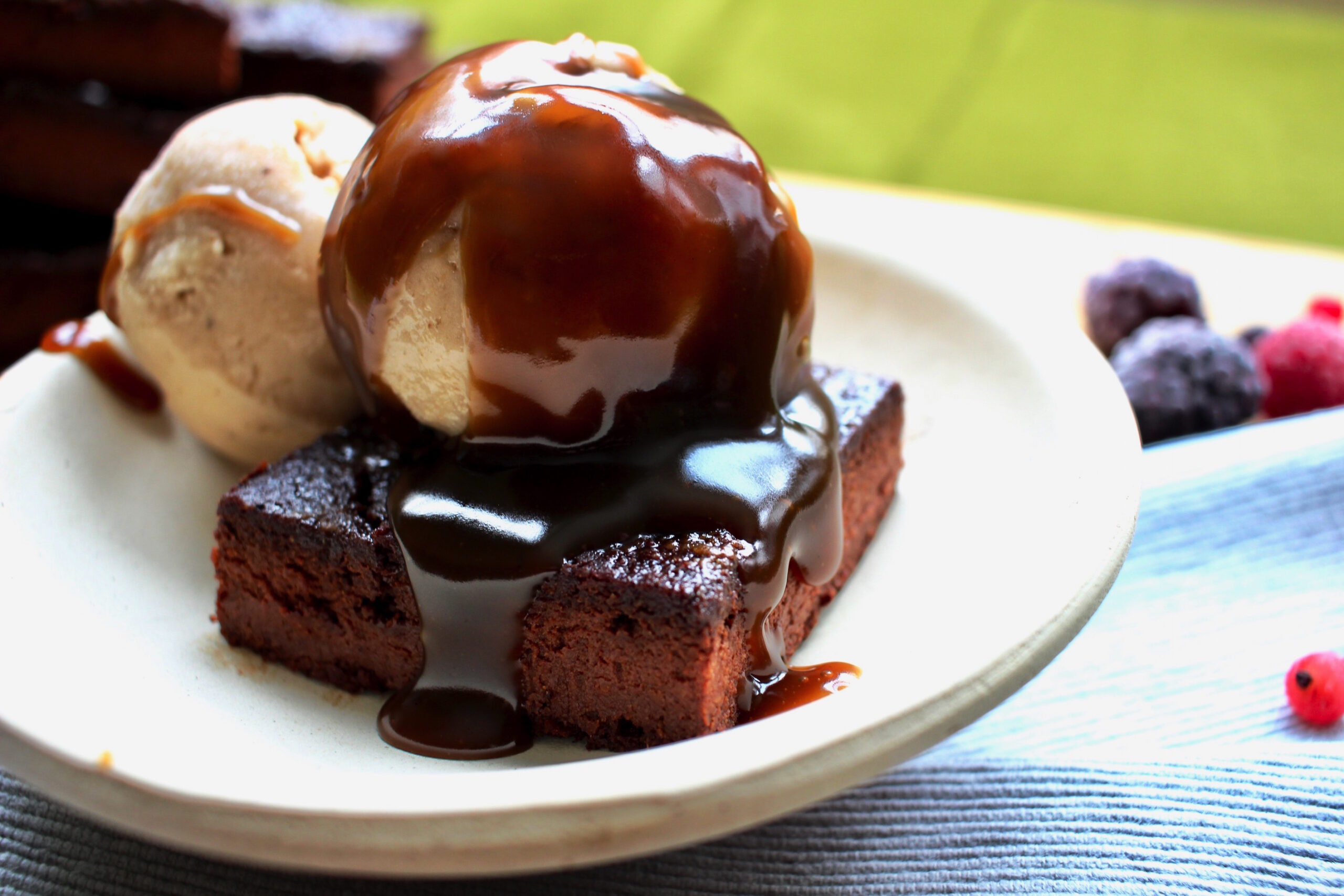 It's warm, gooey sweet potato chocolate brownies served with a heap of banana-based ice cream and a generous drizzle of coconut salted caramel. It's terribly indulgent, completely vegan and refined-sugar-free, made with planet-loving ingredients and absolutely delicious.
References:
Study conducted on behalf of Vegan Life: https://www.veganlifemag.com/veganism-booms/
Goodland, R Anhang, J. "Livestock and Climate Change: What if the key actors in climate change were pigs, chickens and cows?"; Hickman, Martin. "Study claims meat creates half of all greenhouse gases". Independent. November 2009; and
Hyner, Christopher. "A Leading Cause of Everything: One Industry That Is Destroying Our Planet and Our Ability to Thrive on It". Georgetown Environmental Law Review. October 23, 2015. (New)

Dr. George Borgstrom, Chairman of Food Science and Human Nutrition Dept of College of Agriculture and Natural Resources, Michigan State University, "Impacts on Demand for and Quality of land and Water."

 

Hoekstra, Arjen Y. "The water footprint of food". Water for Food and Mekonnen, Mesfin M. & Hoekstra, Arjen Y. "A Global Assessment of the Water Footprint of Farm Animal Products". Ecosystems (2012) 15: 401-415