Spring Recipe – Runny egg with crispy asparagus and pancetta soldiers
As we step into Spring we ask Chef Director, Rob Kirby, to share one of his favourite Spring time recipes.
Here, he shares a dish from his middle book – Family Kitchen – featuring pancetta, runny eggs and asparagus. It really is the perfect Spring Brunch…
Ingredients
8 fresh eggs (allow 2 pp)
8 fresh thick asparagus spears
Method
Pre heat the oven to 180 deg C (or gas mark 8)
Prepare two saucepans of boiling water for the eggs and the asparagus
Firstly, lay out the washed asparagus and cut the base end, stems should be approximately 5-6 inches or 12-15cm long. For asparagus trimmings see tip 1 below.
Carefully place these in boiling water for approx. ….. seconds (see video for time). Remove and refresh under cold running water immediately. Drain and dab dry. Lightly season asparagus with some course, ground black pepper
Lay out your pancetta and carefully roll this around each asparagus spear from the base to the tip. See tip 2 below
For added colour, drizzle a little olive oil over the fresh rolled asparagus. Place these on a parchment lined baking tray and into a hot oven, for approx. ….. mins or until crispy (see video for time).
At any time during the cooking, these can be turned carefully on the hot tray for all round crispness.
Now for the eggs! Carefully place the raw eggs into the second saucepan, and allow to boil for approx…..mins (see video for time). Drain and dry immediately. See tip 3 below
Take a sharp knife and carefully slice the top off each egg before returning to it's holder or box with your pancetta soldiers.
Now you are ready for dunking! Serve warm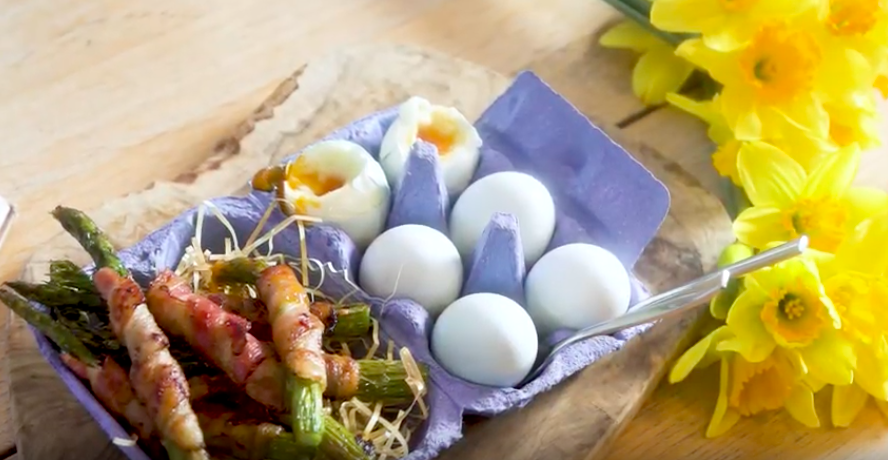 Tips
Asparagus trimmings are great additions to soups, sauces or salads.
If you are preparing a large number of asparagus it can be easier to pre-cut the pancetta for a tidier look
If your first egg isn't quite cooked enough just return the remaining boiled eggs to the saucepan for a bit longer, drain and dab.