Real Bread Week Wrap Up
In celebration of National Real Bread Week, we spoke to our fantastic chefs about bread baking!
What inspired you to bake bread?
Kamil: Number of things, curiosity to learn something new, something that I can bring to our business to enhance what we do. It was also my wife who often plays on my ambition, saying that for sure I can make better bread than shop bought, and finally something that I could get my team passionate about, bringing new skill.
Ruslan: I was offered the opportunity to begin learning to make bread at work, when we had time off due to Covid. I'd always been interested in bread and always want to learn new skills and the bread making process captured my imagination and it's just gone from there.
What is it about baking bread in particular, that really resonates with you?
Kamil: Our bakery is open every Thursday, so Wednesday afternoon is bread making, after a busy day it is a very relaxing process. Also, the whole experience of developing your own starter, making the dough, baking loads, it's a whole experience that is just so satisfying. And the memories of passing bakeries early in a morning so many years ago, something beautiful!
Ruslan: The moment when bread comes out of the oven provides a smell that is impossible to describe. It stimulates something deep in our psyches due to generations of bread making throughout human history. I find the process of turning water and flour into something nourishing and delicious a magical thing.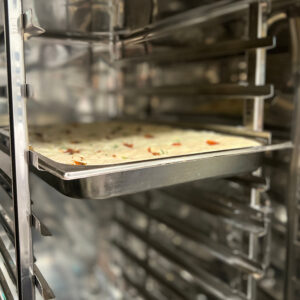 Can you remember your first attempts at baking bread? Any advice for beginners?
Kamil: My first attempts with sourdough were very frustrating, due to my chefs nature and expectations of perfect loaf. My advice – practice, practice, more practice and patience. However even an imperfect loaf is a hundred times better than anything of the supermarket shelf, be proud of every single loaf, and every next loaf to come will be better. I highly recommend Tartine Bread by Chad Robertson, it's a great book with interesting insights from a professional baker.
Ruslan: Be passionate. 99% of the time you won't be successful straight away but if you are passionate, stick with it and don't give up then you'll get there. It took me months to get my sourdough to where I was happy with it but practice and patience got me there in the end.
If you had to choose what has been your favourite bread bake up to now?
Kamil: Any fresh, super crusty sourdough loaf with good butter is a winner for me anytime.
Ruslan: I will always remember the first time I got the perfect 'ear' on my sourdough after many unsuccessful attempts and the feeling of satisfaction. That was after about 4 months of trying but was totally worth it!
Behind the Scenes
We got to visit our Head Baker, Ruslan this week who took us through his bread baking process, all handmade with patience, skill, and the very best ingredients!
Ruslan baked a focaccia, fragrant with fresh rosemary, sundried tomatoes and olive oil.
On day one, he worked on the active starter and left overnight.
Day two, Ruslan mixed the ingredients, leaving the dough to prove and ferment overnight again to develop a distinctive flavour and structure.
Day three Ruslan decorated with fresh rosemary and delicious sun-dried tomatoes then baked until it develops golden colour and crisp layer. Seeing the oven door being opened and watching the focaccia coming out was a real treat!
Finally, Ruslan finished by adding some more olive oil on top to get a glistening finish.