Chatting to our superstar chef, Louise Roberts
A brief look into Louise's career so far at Lexington, from a 16 year old apprentice to multi-award winner, Masterchef contestant, and now Acorn award winner.
Tell me how you started out working in the hospitality industry.
I made a career out of eating really! I was never really into school; I was one of those kids who went for a day a year but I really enjoyed food tech so I thought I'd give it a go as a career. Then I applied to Catering College and my attendance went from 13% to 100%. I learnt everything, front of house, back of house, really enjoyed it and then there was a summer school programme through Springboard that gave me two weeks work experience at a hotel in London and I really wanted to stay on and work in the kitchen but they told me that because I'm a girl, I could only be a Pastry Chef…
Sorry what?! Was this in 1942??
No this was only 10 years ago believe it or not!
So that didn't work out, but I kept getting emails of job opportunities and I got one from this company called Lexington. I'd never heard of them before but I applied, got an interview, and ended up heading to London and meeting all these people who I still work with and speak to today. In the interview I remember telling them all about this scallop dish I'd done – apparently, they just saw this mad person in front of them talking about how much she loves food! They really liked my passion and that's how I started my apprenticeship at Lexington – their first ever apprentices actually, me, two boys, and one other girl.
And you've now been with Lexington how long?
So I started in 2011, 9 years in September!
How do you think the apprenticeship prepared you for your career as a Chef?
It just opened my world really. I'd be working 7 til 3 as an apprentice and then go to college at night, these big days where I was learning so much at once. I got to work at heaps of the big, fun Lexington sites over that time too which was great. And then after two years, you're a Commis Chef and when I started running a section as a Commis Chef I was making all these sandwiches. It doesn't sound like much but trust me, you learn a LOT from making sandwiches. I made THOUSANDS of the things.
Running a section, making all the sandwiches – what came next?
So then I became a CDP (Chef de partie) at another site for a year, another for three months, became a junior Sous Chef and now I've been a Sous Chef here for a year! I mean it when I say I've worked at all the fun sites, I've been really lucky. Lexington's seen me grow up really!
Talk to me about career highlights, you must have had a few stand out moments over that time
I've done a few competitions which have been fun. A few years ago I won a competition which takes place in a Michelin Star restaurant and my Exec Chef at the time, Matt, rang me up and said 'Look Lou, win or lose you get to cook in a Michelin Star restaurant' he knew I'd always wanted to do that. So I entered and got through to the final round where I worked in Dinner by Heston for a week, working 8 in the morning til 12 at night, literally getting owned left right and centre. But I learnt so much while getting judged against another contestant and then I won the thing! They flew me to Dubai to work in a 6 star resort for three weeks, right on top of a mountain top. They put me up, all expenses paid, I had an infinity pool I had my own butler! Then I flew back to the UK and straight out again to Las Vegas to work at the MGM. And Lexington gave me all the support to let me do that so I'm really grateful for that. I think Rob (Kirby) literally fell out of his chair when he found out I won
*laughs* Fair enough too! So the prize was just ridiculously cool work experience?
Yeah and an all-expenses paid trip!
The calibre of talent competing must have been outrageous – what do you think made you stand out?
I don't know really.. I mean obviously you have to cook but even when I was nervous and uncomfortable, I still talked to everyone., you know? It's good and bad my personality *laughs* because some people think I'm mad as a hatter, but I think it came across well in this competition.
And speaking of competitions, you recently competed in Masterchef: The Professionals. That must have been quite an experience.
Yeah and I didn't even mean to go on! So two years ago my Nan died and I used to watch Masterchef with her, so after she died it wasn't going on the TV because it bought up all these emotions and memories. Then Sam Potter sent me the application and he said I should apply, so I thought 'oh yeah' but only got about halfway through filling out the application. Then another girl from Lexington made it through and when they came in to film her, they asked Matt if he knew Louise Roberts! They told him they liked my story and to ask me if I'd please finish my application! So I submitted my application on Sunday and on Monday I got the call asking me for an interview.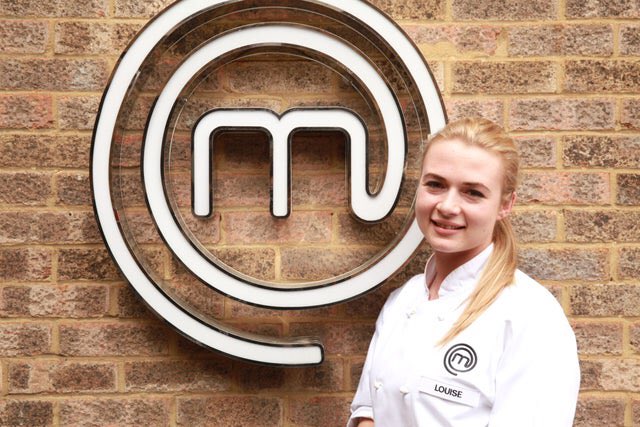 And the rest is history! We were all super proud watching you on the show. What was your biggest take away from the experience?
Working in a kitchen is stressful as it is – don't get me wrong, I love it, but it's stressful. Masterchef was even more stressful. You walk into the kitchen and you forget yourself, you're trying to process all these emotions and then you realise you're showing them on your face and they're going to be broadcast on national tv! And people ask me what I remember but I watch it back and I remember none of it! I watched it back and was like 'oh yeah, sounds like something I'd say!' *laughs*
And finally, just to highlight another of your amazing achievements last week you became an Acorn Award Winner, how do you feel about that?
I'm so thankful and happy that I was able to win such an amazing award it means that everything I have done over the years has really been recognised in the industry and shows me that I need continue pushing on in my career and competitions.